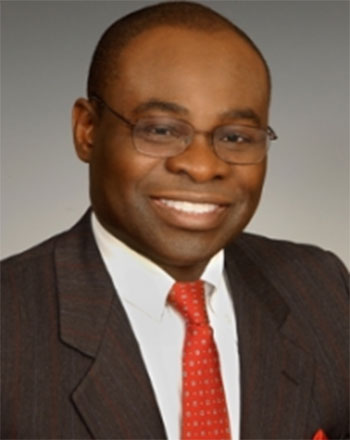 Biography
R. Siisi Adu-Gyamfi is a recognized leader with demonstrated expertise in managing and expanding existing businesses, as well as identifying and developing new business opportunities. He has successfully developed businesses in over 100 countries. He is Managing Partner at AGA Associates, which provides consulting services to PE firms and Fortune 1000 companies. He is also CEO of ID-Queue LLC, a SaaS solution company that helps healthcare partners increase access to their services, optimize productivity and improve patient outcomes.
He has been a corporate officer at Textron Inc., Eaton Corporation and Cummins Inc. He has also held a series of high-profile general management, finance, marketing and strategy roles at United Technologies and Digital Equipment Corporation. As the Corporate Senior Vice President and President of International at Textron, he led the $4B non-US business. He was a member of Textron's Transformation Leadership Team and the International Advisory Council (IAC). Siisi also led the company's sales and marketing efforts and was Chairman of the Customer Leadership Council, Chairman of the Global Roadmap Implementation Team and a member of the Corporate Strategy Council.
At Eaton, Siisi was the first to hold the Chief Marketing Officer position created in 2000. He developed cross-company sales and marketing initiatives that delivered increased revenue and profits. He served as Chairman of the Marketing and Growth Councils. He moved to the Netherlands to become the Operating Advisor to two low-performing businesses in Europe.
Prior to Eaton, Siisi ran the $400M Generator Drive business at Cummins. He was also responsible for worldwide sales and marketing for the $3B Cummins Power Generation group. He and his colleagues led the company's venture into value-added markets such as Operations, Maintenance and Leasing.
Siisi received a Master of Business Administration from the Harvard Business School. He graduated from the Massachusetts Institute of Technology (MIT) with 3 degrees: a Bachelor and a Master of Science in Mechanical Engineering, and a Bachelor of Science in Management. 
A graduate of the Kellogg School of Management Minority Director Development Program, Siisi serves on the Board of Maybert Engineering and ID-Queue LLC. Boards served include System Insights, Inc., Council on Emerging Markets, Healthcare Without Walls, MIT Corporation Development Committee and MIT Class President. He is a member of the MIT Educational Council, BAMIT, HBSAAA and the Executive Leadership Council.Siisi is author of "Corporate Politics -- A Community Affair. A Proverbial Guide to Success" (2010) and co-author of "Inside the Minds: CMO Leadership Strategies" (2005).