In This Story
People Mentioned in This Story
Body
If you imagine that commercial real estate development would be a classic male-dominated profession, you'd be right. "When I started in commercial real estate in 2001, I worked a commercial brokerage firm," says Kat Grimsley, PhD, former director of the Master of Science in Real Estate Development program at the George Mason University School of Business. "We had a full floor of an office building on Connecticut Avenue in D.C., and all the brokerage professionals and managers were men, apart from the one female broker who hired me."
Fast forward to 2020. A report by the Commercial Real Estate Women (CREW) Network found that women now represent 36.7 percent of the commercial real estate industry. As in most industries, however, equality in wages and leadership is still an issue. For example, in 2020, the fixed salary gap between genders was 10.2 percent and female representation in real estate C-suite positions was only 9 percent.
Continuing the trend of positive change will likely come from women driving an evolutionary change in the industry, or by circumventing the old-school architype by building their own business. "Women are very well aware of the opportunities," says Grimsley, "and there are a lot of talented women in our industry."
A 2019 New York Times article highlighted MaryAnne Gilmartin, founder of L&L MAG, a real estate development company with an all-women team. In the article, Gilmartin said she knows "exactly where to go to find the right woman for every single part of the deal."
In other words, there's nothing about commercial real estate development that requires a particular gender.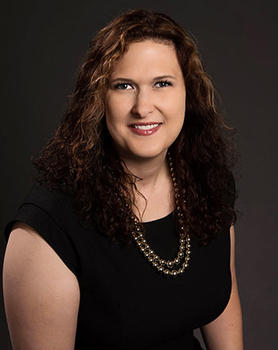 Grimsley brings both her expertise and her perspective to the MS in Real Estate Development program. "We want to prepare all our students to be successful in their chosen career paths, both through traditional subjects and also as they engage with contemporary issues. As the industry continues to evolve, a diverse skill set is needed to engage with the increasingly diverse and sophisticated range of opportunities—and women have an important contribution to make going forward."
Grimsley began her career in the private sector doing market research, financial modeling, and transactional work with commercial real estate. She transitioned to a global focus when she accepted a role managing an international property development portfolio for the U.S. Department of State, in which she developed acquisition strategies for embassies in more than 25 countries.
"My parents had investment properties, and so I had always planned to go into commercial real estate," says Grimsley. "That's the case for a certain percentage of our students as well—15 percent or so come from families who have investment properties, so they're coming to us with an entrepreneurial spirit and the goal of becoming more sophisticated investors and developers."
Women come to the master's program from a variety of backgrounds. Most are on the commercial side of the industry, but some come from residential real estate backgrounds. Perhaps unlike 20 years ago, current female students have experience in all sectors of the industry including construction management, architecture, finance/banking, property management, and many others. All represent components of the enormous variety of disciplines needed for a successful commercial real estate development project.
The MS in Retail Estate Development focuses on advanced principles of commercial real estate development, leadership, and entrepreneurial approaches in the field.
The program operates in partnership with the Center for Real Estate Entrepreneurship (CREE), which provides students with the opportunity to connect with the Northern Virginia, Maryland, and Washington, D.C., real estate development community.
"Networking has always been an important part of commercial real estate," Grimsley explains, "and I have always found the women in our industry especially supportive of each other. Through CREE, we are able to offer our students the opportunity to attend a variety of extracurricular industry events to expand their networks further their career goals."
As more women enter commercial real estate development—particularly in practices conceived and led by women—redefining expectations and values are changing the rules of the game.
"Today, there are more women in leadership roles, wonderful female role models in the industry, and more women's leadership conferences, says Grimsley. "There are more resources and we're moving in the right direction."