In This Story
People Mentioned in This Story
Body
Victoria M. Grady, director of the MS in Management program, was named one of 2021 Dean's Teaching Faculty Fellows. Grady, who is also an associate professor of Management, joined the George Mason University School of Business in 2014 as an assistant professor.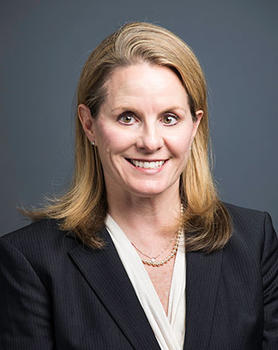 "Dr. Grady is an exceptional educator with a passion for her students and the topics she teaches. Through her research and consulting she brings insights from leaders in industry into the classroom," said Associate Dean of Graduate Programs Paige Wolf.
After receiving her MS in Management from the University of Alabama in Huntsville she was drawn to teaching. Not long after, she had the opportunity to move to Europe, living in a small town in Southern Germany, where she began teaching for the University of Maryland's European Division. "Once I began working for Maryland, my interest in teaching just continued to grow. When I returned back to the United States a few years later, I pursued my doctorate at The George Washington University with the goal of a career in higher education," Grady said.
"My favorite part of the Mason community is being a part of a future-focused organization that has an eye toward growth and innovation. In just the last seven years of my tenure at Mason, I have been able to be a part of great change, which is incredibly exciting. I can't wait to see what the future looks like for the school, and I am honored to be a part of it," Grady added.
In the last several years, Grady has written articles for the Harvard Business Review, Washington Business Journal, a book in 2019 on workplace attachment, published four peer-reviewed articles, served as a faculty senator, and received the Outstanding Teaching in Management Award in 2016. However, helping her students is her greatest accomplishment.
In her role as director of the MS in Management program, Grady meets with each student applicant to discuss the curriculum and diverse career opportunities available to an MS in Management graduate. Many of these students have recently completed their undergraduate studies and do not have a business background – making them ideal candidates for this program. Designed to provide a foundation in business , MS in Management coursework includes topic areas such information technology, finance, economics, organizational behavior, among others.
Several years ago, Grady met with a recent undergraduate student who majored in German and Spanish, and was concerned about the quantitative component of the program. "I assured her we had great faculty and fantastic support for our grad students concerned about the quantitative aspects of our program. As it turned out, she loved statistics, and did extremely well," Grady said. The student enjoyed the quantitative aspects of the program so much that she accepted an internship focused in the finance area, and ultimately earned a permanent position within the organization. "Similar stories emerge every year in our program, and I love that! This particular student is continuing her work with this global organization headquartered in Reykjavik, Iceland and has already been promoted with endless future opportunity," Grady said.