Body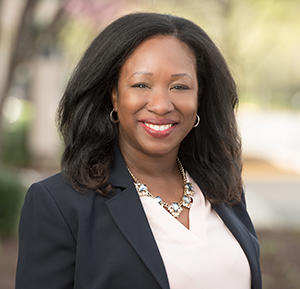 On November 1, 2021, Dominique Callins was sworn in as a judge on the Court of Appeals of Virginia. This remarkable achievement was earned after years of dedication to her clients and a commitment to excellence. However, Callins also feels blessed to have a network of peers who have invested in her success, and that support is not lost on her. It's one of the reasons she serves on several advisory boards, including the Women in Business Initiative (WIBI) Board at George Mason University's School of Business.
Attracted by WIBI's commitment to support aspiring female business leaders through scholarship, Judge Callins relishes the chance to promote examples of successful businesswomen to students, female and male alike. "I want people like my son, who is a current Mason student, to see women in high-profile and leadership positions and know that women can match or exceed their male counterparts in business," she says. Though she didn't grow up believing that gender would limit her professional growth, she was surprised to learn the concept of a female executive was still a novelty. "Our work in WIBI is to empower women to break the glass ceiling and realize the opportunities that they have," she says.
As a young law clerk, the thought of judging on the Court of Appeals would cross Callins's mind, but it became a concrete goal thanks to the encouragement of her support system. In part because of that same support, she has been elected to sit on the boards of a number of nonprofits, churches, and schools over the years. "To whom much is given, much is required," she says. "So, I think this kind of community service is important because I'm not sure if I would be in the position I am today without the help of others."
Until she was sworn in, Callins was practicing family law, a rewarding line of work that has allowed her to help others. "The best feeling was whenever I was able to bring families together or empower women to be strong and independent during difficult times," she says. As a single mother herself, she empathized with women going through tough trials, and the knowledge and support she gave them was instrumental in these women finding strength they didn't know they had. It's a similar sense of empowerment that she strives to pass to young, aspiring businesswomen through WIBI.
There is no doubt that the time students spend at the School of Business constitute their formative years, as they decide what they're passionate about and what they want to pursue. Judge Callins' role on the WIBI Board is a tremendous opportunity to give back to the local community and be part of a support system that nurtures growth. Through her extensive experience, Judge Callins knows that talent and hard work will take someone far, but guidance and encouragement from peers and mentors will propel them all the way to dreams they never thought were attainable.
Topics