Body
Ajay Vinzé, the new dean of George Mason University's School of Business, recently sat down for an interview, discussing his vision for the school, his background, his thoughts on education and his Instagram account for his dog. Vinzé, former dean of the Trulaske College of Business at the University of Missouri, joined Mason July 1.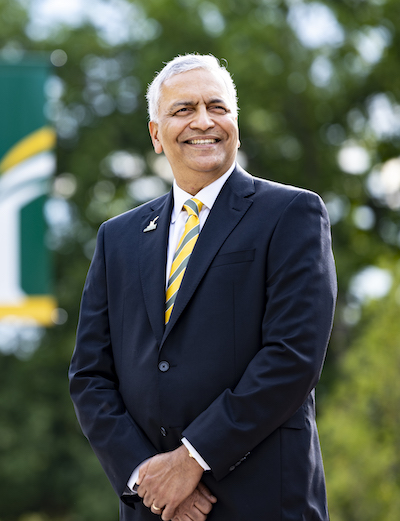 Tell us a little bit about your background.
I was born in India and spent my formative years in the Philippines. I got my undergraduate education in India and then came to the United States. I completed my doctoral degree at the University of Arizona after earning my MBA from the University of Connecticut. I enjoy working in university setting because I love research and the idea of contributing, even in a small way, to the learning in a specific area—being around talented and enthusiastic students is an added plus. I have had many areas of interest, but particularly how technology impacts business practice. As I worked more in academia, I developed a passion for helping universities partner with their communities to make a difference.
Why did you decide to come to Mason?
After working with universities with long histories, I was fascinated by Mason's youth and rapid growth. I thought there's something interesting going on here. I was also intrigued by its location, that it sits on the edge of Washington, D.C., arguably the most vibrant capital city in the world. And then I saw that Northern Virginia has a vibrant, thriving business climate. I saw that the business school had acclaimed faculty doing interesting research. And then I thought, this is a fantastic opportunity to make a difference and be in an exciting place. The real question is why wouldn't I come here?
What assets do you bring to the role of dean?
I bring 30 years of experience in academia, along with my ability to create business partnerships. I bring a global perspective and a genuine enthusiasm and passion for higher education and its role in our society. When you teach students, you aren't just helping them get jobs, you are crafting the next generation of thinkers and creators, and I bring with me a deep belief in the importance of that role.
How would you describe your leadership style?
Before I make a decision that changes how things are run, I like to listen to as many people as possible. You never know where a good idea will come from, and it's important to hear a variety of perspectives. I also like to be collaborative and data-driven in any decision, as well as ensure that any change we make is meaningful in context. In the end, though, once I've looked at the data and gotten input from people involved, I am not shy about being decisive.
What is your strategic vision for the School of Business?
It's important to continuously improve student experience and increase career readiness, along with encourage impactful research. I also want the school to lead in creating modular education, allowing students, including lifelong learners, to customize their education to their needs. The school has done a lot of innovative and engaging collaborations with the business community, and I intend to encourage and increase these important collaborations.
In general, when you look at higher education, it's imperative to be on top of technology and innovation. The business school, its management and culture, needs to have an ability to adapt and change quickly. In addition, we need to embrace globalization and understand that we aren't just competing within our narrow neighborhood, but nationally and internationally. The Business School needs to lead as an institution of gravitas providing value in society. I hope to continue to grow the school as a creative, inclusive institution focused on excellence.
Knowing that Mason prides itself on its diversity, how do you see leading the business school's efforts on diversity and inclusion?
Diversity and inclusion are not an afterthought. These concepts have to be woven into the fabric of how you think, operate and conduct yourself. I take seriously my role in getting everyone on board with the notion that it's everyone's responsibility to be inclusive in everything we do.
Finally, I understand you have a dog that you…maybe obsess over a little bit?
Yes, animals are a big passion of mine, and I like to work with rescue operations. I have a rescue German Shepherd named Dizney, and I've dedicated an Instagram account to her. It's my guilty pleasure.  Her nickname is Dizaso her Instagram handle is @dcdiza.
In This Story
People Mentioned in This Story