Body
Move over Shark Tank, Mason's Patriots have arrived.
Fifteen teams competed for $40K in prizes at the George Mason University School of Business Patriot Pitch Competition during the in-person April 13 event on Mason's Fairfax Campus. With the Patriot mascot handing out checks to the top winners of the day, nine teams of Mason entrepreneurs walked away a step closer to realizing their dreams of launching or growing their own startup businesses.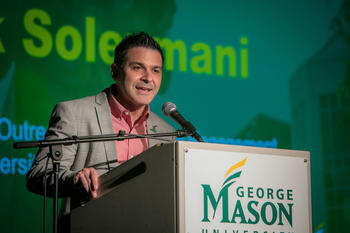 "We take great pride in being ranked as Virginia's most innovative university," said Patrick Soleymani, associate dean for outreach and strategic engagement at the School of Business. "The Patriot Pitch Competition is just one example of the Business School's investment in the next wave of regional entrepreneurs and our commitment to growing this ecosystem nationwide."
Now in its 22nd year, the Patriot Pitch Competition (formerly the Dean's Business Plan Competition) was open to Mason students and recent alumni from all majors/fields of study and brought nearly 50 applicant teams from across the university. The event, led by the Center for Innovation and Entrepreneurship, held two rounds of competition for entrants. In the first round, a committee from the School of Business, consisting of faculty and local entrepreneurs, reviewed the applications. Four teams from each track were then selected and invited to the final round, where they pitched their ideas live and before an audience of nearly 200 students, alumni, faculty, staff, and community members throughout the event.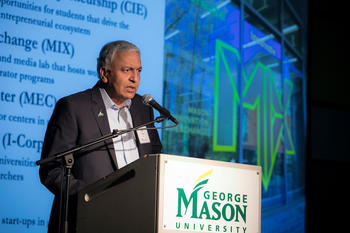 In welcoming students to the event, School of Business Dean Ajay Vinzé emphasized Mason's rich ecosystem of innovation and entrepreneurship that includes the Center for Innovation and Entrepreneurship, Mason Innovation Exchange (MIX), Mason Enterprise Center, National Science Foundation's I-Corps™ Hub site, and Accelerate Investor Conference 2023, which is scheduled for November. Also speaking at the event were Paula Sorrell, associate vice president for innovation and economic development; Gisele Stolz, senior director of entrepreneurship programs within the Office of Research, Innovation, and Economic Impact; and Eddie Hill, business incubator director for the Mason Enterprise Center.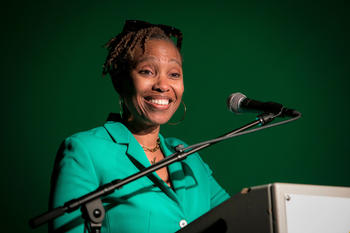 In her keynote address, Nicole Washington, founder and CEO of Boralogix, Inc., honed in on the importance of the three C's of innovation: currency, clarity, and community. She implored the student entrepreneurs to look beyond the capital from angel investors and venture capitalists, to planning on how to invest their own capital and having some "skin in the game". Her recommendation for presenters was to know your customer, know your pitch, and to remember to create diverse teams. She closed her inspirational talk on the importance of a strong community of supportive family and friends and of always giving back. She reminded students that we are facing unprecedented global challenges that can disrupt or even eliminate our way of life, and we should be looking at new ideas and business ventures that can truly change the world. 
When the competition began, the student teams answered with a wide range of new ideas and early-stage business ventures that delivered on her challenge…in a big way.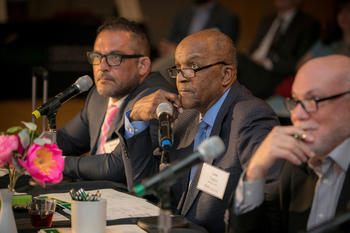 Judges for the event evaluated the presentations, selecting a first and second place team in each of the following four tracks: Public Engagement, STEM, Social Impact, and General Entrepreneurship. In addition, audience members used the PollEverywhere app to vote for their favorite pitch in the Mason's Choice Award prize for each track.
For the Public Engagement track, taking both the first place prize and the Mason's Choice Award was By Easy AI, a no-code tool that brings the full potential of Machine Learning and AI to low-tech enterprises, allowing them to mine data for actionable insights and to optimize their business analytics. Coming in second place was Muse Management, an event management company focused on increasing art visibility in the community through fun events that include immersive experiences.
For the STEM track, once again, the first place prize and Mason's Choice Award aligned, and were both awarded to Designer Contrast Agent Platform, an economic, size-tunable, and biofriendly contrast agent platform that targets deep tumor tissue to create high contrast, high resolution images of cancerous tumors. The platform can be synthesized in a few steps and can be scaled-up for industrial manufacture. Second place went to NaviSleeve, an unobtrusive, wearable controller for Virtual Reality/Augmented Reality (VR/AR).
For the Social Impact track, the first place prize and Mason's Choice Award went to Legal Language Simplified (LLS), which provides accurate, human-certified translations for non-English-fluent, at-risk minorities in the U.S. through a proprietary deep learning technology. LLS ensures that hard-working immigrants trying to live the American dream fully understand their rights and responsibilities. Second place went to Chelonii, an activewear and lifestyle brand focused on products that are made from organic and recycled materials, with 10% of their proceeds going toward removing ocean pollution.  
For the General Entrepreneurship track, first place went to UKIE Candles, maker of hand-poured pillar candles made of 100% organic-sustainable soy wax. "Ukie" is a colloquial term for Ukrainians living in America and 25% of all sales revenues are donated to Ukrainian families impacted by the ongoing war. Second place went to Senior FitLife, which offers in-home personal fitness training services for seniors. Mason's Choice Award went to PyroSound.studio, producing temperature-regulated pyroboards with dancing flames that move to the sound of the music.
Powering the success of our student and alumni pitch teams were 13 mentors, who are CEOs, consultants, entrepreneurs, startup coaches, faculty members, and Mason alumni. Our mentors were a critical source of value to our pitch teams, providing real-world experience starting and managing startups. Our judging panels comprised 16 local business leaders whose professional experience includes consulting, derivatives exchange, energy consulting, food technology, nonprofits, and venture capital. 
Additionally, Kuzeyhan Ozdemir, I-Corps™ program manager, George Siragusa, Mentor in Residence at the MIX, and Lisa Shapiro, assistant director of entrepreneurship programs in the Office of Research, Innovation, and Economic Impact, organized two intensive ICAP/I-Corps™ training sessions, in-person and via Zoom, along with weekly pitch practices in the MIX to help the finalists prepare for the big day. 
Three high school students from Thomas Jefferson High School for Science and Technology joined in the fun as volunteers to help support the operations of the event. It was a great experience for them to watch the pitches, to learn from real entrepreneurs and judges, and to see the resources available for entrepreneurs at Mason. 
Many generous sponsors also helped to make the day's event successful, including 22nd Century Technologies, Inc., the Leading Innovation Sponsor for the event, as well as the Greg and Camille Baroni Center for Government Contracting as the Public Engagement Track Sponsor, College of Engineering and Computing and the College of Science as co-STEM Track Sponsors, the School of Business  Women in Business Initiative Advisory Board as the Social Impact Track Sponsor, and the School of Business Management Advisory Council as the General Entrepreneurship Track Sponsors. 
What's Happening at Mason