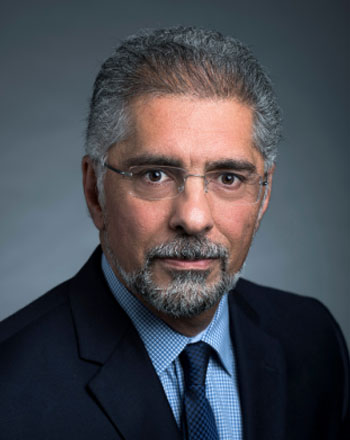 Titles and Organizations
Senior Associate Dean, College of Science and Chief Scientific Officer, Center for Infectious Disease Research
Biography
Dr. Ali Andalibi has served as the Interim Dean and Associate Dean for Research in the College of Science at George Mason University. He received his PhD from the Department of Microbiology and Molecular Genetics at UCLA and later joined the faculty in the Department of Medicine in UCLA. Subsequently, he was involved in several early stage biotechnology companies. He then joined the House Ear Institute (HEI) as the Director of New Technology and Project Development and held a joint appointment in the Department of Otolaryngology at the University of Southern California, School of Medicine.
As a public servant Dr. Andalibi has served as a Program Director in the National Science Foundation's Division of Industrial Innovation and Partnerships, where he oversaw the NSF's medical biotechnology SBIR/STTR grant portfolio and at the National Cancer Institute, where he served as the head of the Therapeutics and Diagnostics Section in the NCI's SBIR Development Center.
Dr. Andalibi is a molecular biologist and geneticist by training, with a very broad, multidisciplinary background that includes nearly three decades of research into the genetics and molecular mechanisms of metabolic and inflammatory diseases. The focus of his research has been on the elucidation of the role of the inflammatory process, including identification of inflammation-induced signal transduction pathways and the role of innate immune molecules in the etiology of diseases such as atherosclerosis, diabetes, otitis media, and neurofibromatosis.