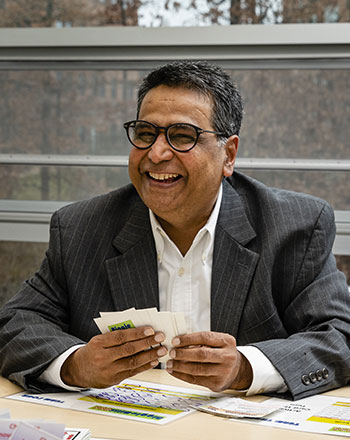 Titles and Organizations
Associate Professor, Management
Additional Roles: Academic Director, Executive Development Chief Risk Officer program
Contact Information
Email: mpjoshi@gmu.edu
Phone: (703) 993-1761
Office Location: Enterprise Hall 217
Office Hours: By appointment
Biography
Mahesh P. Joshi is an academic, an entrepreneur, and a consultant. He was the founding director of the Center for Innovation and Entrepreneurship at the Costello College of Business at George Mason University. Currently he is an associate professor of global strategy and entrepreneurship at Mason. He is also the president of Joshi International, Inc., a consulting firm that provides strategic and entrepreneurial advice to clients.
As an entrepreneur, Joshi launched his first business in 1994, and since then has been involved in more than 10 startups including an online jewelry business. Recently he received a patent for "BiggieBills," an interactive board game for teaching strategic thinking and business management. Joshi has a wide variety of research and teaching interests, including: innovation and entrepreneurship, strategic management, innovations and technology management, strategies of service firms, global strategies, managing change, business model analysis, and interdisciplinary capstone projects.
Joshi has successfully focused on executive education and training  and he has been actively providing a variety of training courses through Joshi International, Inc., as well as George Mason University. He has won teaching awards for "Excellence in Teaching" with respect to executive MBA students. In 2015, 25 blind managers through National Industries for the Blind (NIB) presented a teaching excellence inscription to Dr. Joshi that read: "To a Teacher Committed to Carving and Shaping our Business Minds."
Joshi has published several peer-reviewed publications (30+) and 11 of these publications are listed as A/A* (ABDC journal list) including Strategic Management Journal, Journal of Operations Management, Decision Sciences Journal, Technological Forecasting & Social Change, and Long Range Planning. He has won several "Best Paper Awards" at a variety of academic conferences.
Joshi has been engaged in faculty evaluation (P&T committees), new faculty searches and faculty mentoring (that includes thesis advising and co-authoring). He has applied for and won many grants where academic theory is applied to real applications. In addition, he was the faculty chair for the AACSB visitation committee at both George Mason University and St. Joseph's University. He is actively involved in outreach for the Costello College of Business and has been awarded the "School of Business Service Award" seven separate times, capturing his ability to connect with the local business community.
Research Interests
Entrepreneurship and Innovation
Global Strategy
Corporate Entrepreneurship
New Technolgies and its links to Strategy and Entrepreneurship
Operations Management & Service Management 
Education
Ph.D.: Temple University, Philadelphia, PA (Strategic Management and International Business)
Post Graduate Diploma: Xavier Institute of Management, Mumbai, India (International Business)
B.Sc.: St. Xavier's College, University of Bombay, Mumbai, India, (Mathematics, Economics, Statistics and Operations Research)
Teaching Interests
Strategic management
International Strategy
Entrepreneurship
Risk Management related to strategy