In This Story
People Mentioned in This Story
Body
Using statistics, econometrics, and data mining techniques Nirup Menon is hard at work trying to understand how unequal access to health care technology might be linked to unequal outcomes in health care.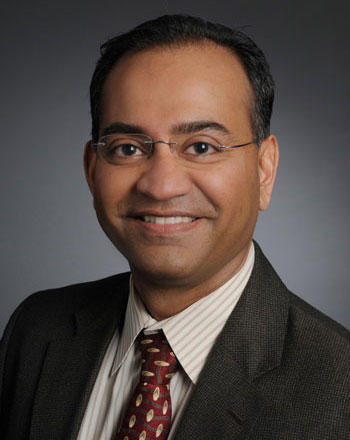 Menon, a professor in the information systems and operations management area, has published more than 25 peer-reviewed journal articles in domains such as health technology, information security, privacy, enterprise systems, and online platforms. His current work, examining and trying to understand the unequal outcomes in our health care system, is of particular interest to the Business for a Better World Center (B4BW). Additionally, Menon is actively working on a Smart City Initiative, focused on data privacy, after winning a grant from Arlington County and Virginia Commonwealth Cybersecurity Initiative.
Recently, Menon generously gave us some time to discuss what sparked his interest in health care disparities, his current research efforts, and a great idea he has for B4BW to connect businesses and researchers.
What motivated you to start working in the racial equity and health care disparity space?
Much of my prior research was on the hospital as an organization and how hospitals manage technologies. I spent several years studying health care improvements after the adoption of various information technologies. For all practical purposes, I thought of each patient as an "average" patient. I did not pay attention to the fact that not all patients have the same access to health care, or the same hospitals and its technology. Then I learned about Cara Frankenfeld's work on racial disparities during the Provost's Multidisciplinary Research event. It struck me then, that in order to seriously address technology management in hospitals, I must study whether hospitals are able to equitably dispense health care to all – to study if all patients are equally enjoying the benefits of the technological progress that we are making.
What can you tell us about your ongoing research?
I am continuing my research on health care disparity. Through our research on racial disparities in colon cancer outcomes, we found evidence of outcome disparities that could be linked to unequal access of health care technologies for groups of people. I am now working on analyzing over 6 million patient records, of which more than two million records are COVID-19 positive patients, to see if racial disparities played a role in how patients received treatment during the pandemic last year.
In my other research streams, I am working on the business of online platforms, including crowdsourcing platforms. We are looking at how a company posting an online contest should frame their challenge to attract more qualified contestants to participate and provide innovative solutions. Cybersecurity is another research stream that I am focusing on, specifically security governance in organizations. I am also working on a project on digital resilience when an organization is faced with an upheaval such as a pandemic.
But you're doing more than just research, can you describe some of your other activities?
Sure. I am also a teacher. I teach data mining. I contribute to my profession. I am an associate editor for a peer-reviewed journal. I am also an administrator at the School of Business. I just stepped down as the area chair for information systems and operations management. I am now serving as the associate Dean for Arlington Ventures and Strategy.
Nirup, thank you so much for your work in this field and your commitment to B4BW. What could we be doing to support you and your colleagues' research and other efforts?
B4BW has been successful in inviting great speakers from the business community to present during its seminars. This is helping me understand what is important to businesses from an equity and responsibility point of view. It would be great if B4BW reached out to businesses to learn the problems that they want solved to become a responsible business, and then ask researchers such as myself to work with those companies on those problems.