Body
George Mason University's Center for Retail Transformation, part of the School of Business, is working with Microsoft to host a series of informational panels this spring and summer to help students understand how technological innovation is affecting retail businesses.
"A collaboration with Microsoft allows Mason and the center to emerge as thought leaders in the retail sector, showcasing how retail is changing and becoming more technology and data intensive," said Gautham G. Vadakkepatt, director of the Center for Retail Transformation. "It's also a great opportunity for Mason to provide students with an in-depth understanding of where technology is heading and how it is changing the retail landscape."
Over the spring and summer semesters, Microsoft will sponsor and participate in a six-part series of panel discussions with retail and technology experts about the digital transformation of retail. Some of the panel discussions being planned include conversations around customer data and AI, sustainability, enabling frontline workers and best utilizing the metaverse. The next panel is scheduled for March 23. Register here.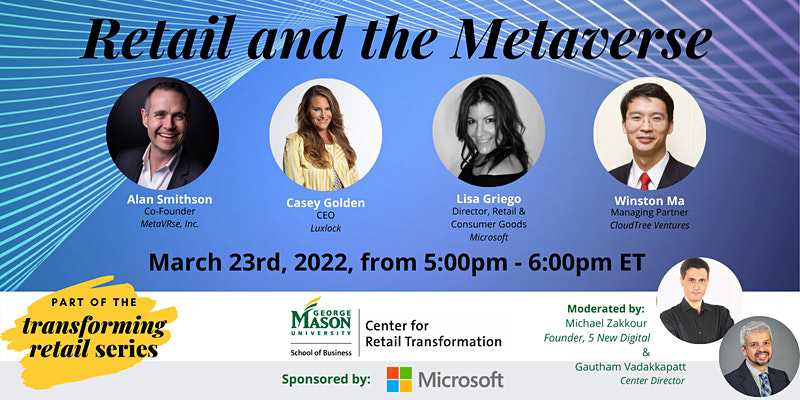 "We are excited about sponsoring these discussions around how retail can work with emerging technologies," said Ricardo Belmar, director of Microsoft's partner marketing advisor for retail and consumer goods. "We are at the beginning of a longer term relationship with Mason and the Center for Retail Transformation."
In addition to sponsoring the panels, Microsoft plans to work with Mason to support the development of retail industry-specific surveys to help with research. The center and Microsoft, with its partners, also expect to create opportunities and resources for retailers to better understand how businesses can benefit from emerging technologies.
Launched in 2020, the vision of Mason's Center for Retail Transformation is to be the foremost academic institution to drive transformation in retail.
"Our center is dedicated to helping the retail sector, especially start-up, small- and medium-sized players, thrive in the new era," said Vadakkepatt.
Belmar said that Microsoft is also trying to increase its focus on small- to mid-market-sized retailers.
"The mission of the center aligns with our mission of enabling retailers to better use the technology available to them," Belmer said.