In This Story
People Mentioned in This Story
Body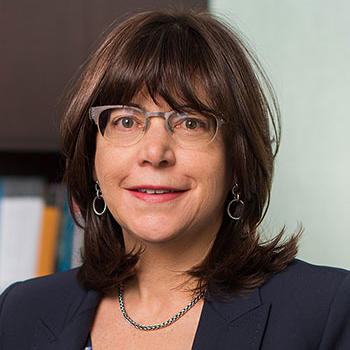 Katharyn White is vice president of Federal Ecosystem at IBM, and co-academic director for the Chief Marketing Officer Program for George Mason University's Executive Development Program. As a recognized marketing expert, she is leading in the redefinition of marketing and the CMO role, repositioning the role as a driver of growth. Her global career has included various positions at T-Mobile, HP, DuPont, IBM and non-profit organizations. She is also on the advisory board of several start-ups.
Recently, we had the opportunity to catch-up with White to learn more about her work with Mason's Executive Education program and her take on the industry. [This interview has been edited for length and clarity from its original form.]
Given your leadership in the field, what are the major challenges that senior marketing officers are facing today? I mean, the big challenge for everybody in leadership today is that the marketplace has changed faster than our ability to address it. And specifically that's important in the marketing function because our customer's demands, the marketplace shifts, have changed faster than marketing's ability to address it. The required skills have changed the required collaboration, what it takes to break through in the marketplace. All of this has changed to the point that at least in my opinion, there's no marketing experts anymore. We need to come together as a collective of expertise as a collection of skills to address where the market is going.
Why should someone take a Chief Marketing Officer Program?
I think it's so important that we are skilled to address where the market is going. And as I said before, I have a, a fundamental belief that there are no experts anymore. So we have to have the expertise to create these cross-functional teams that leads the organization to where we need to go. The requirement for transformation is in the marketplace, is in our customers, in our citizen base, and most importantly in our function. And so we have to take this moment for leadership to lead across the C-suite to drive the changes required to be successful in the marketplace.
What are some of the very pressing questions that you see marketers are facing today and what kind of skills can they take away from this program that they can implement from day one after the program?
I think the big change for marketers is in the area of promotion. I think it's now more about personalization and to get at personalization, we really have to bring all the different factors together. How do we apply data, AI, privacy, ethics, and at the same time act, we know the client they're the customer or the citizen that we're helping them that to be successful in whatever it is they're trying to achieve, particularly in a B2B perspective, but in a consumer citizen perspective as well, I want to be successful. I don't want to be burdened to interact with an organization. I want it to be seamless to me without having my privacy at risk. So that exchange of value is changing the requirements to be successful in marketing going forward. And it requires a whole different kind of skillset and so it's the curriculum in total, not any one module of it, that's created in a way to help current CMOs and future CMOs for orchestrating this change.
What do you see as the key learning outcome someone gets from the program?
While we're going to have an element that is both academic and based on where the marketplace is going, having depth and skills and having the breadth, we're also going to apply it in a way that things that we learn in the session, we're going to be able to take to our day job, both at the modular or specific class level, as well as in the program holistically. So we're going to be able to take it to our teams, to our peers and to our leadership, to be able to change the trajectory of our own effectiveness and the organizational effectiveness.
Could you speak to the benefit you see having both academic and industry leaders teaching in the program?
I think you get the best of both worlds, people that are on the industry side haven't really understood the best way to teach, learn, and bring things together in a way that has lasting impact. And at the same time on the academic side, we know how to teach, we know the research, but we haven't applied it to make a difference in the day to day constraints of a business world. So by partnering to together, we're taking really the best in of both worlds to ensure that we're giving the depth of insight, the breadth of capability, and then being able to apply it in a pragmatic way that each of the attendees takes something that they can improve their effectiveness in both the short and long term,
The faculty that you're bringing to the table in the program bring a global perspective. Can you tell us how that is a benefit?
One of the things that I would say is your time is precious. If you're investing in a program, be sure you're getting the best of what curriculum can offer to you. And the thing about this program, in addition to the academic experts, we're bringing in industry experts from literally all over the world, the depth and expertise in, and perspective of all these different organizations will come together for your benefit. Some people call it globalization, but it's that combination of perspectives that will give you insight that you can't possibly gain on your own, because of the experiential and the lenses that they bring to the discussion.
How does the CMO build an effective team?
A huge challenge for the CMO is how to build an effective team. The last thing we can afford to do as marketers is create silos within our own organization. One way in which we do that is, is to create squads or agile teams that bring together the different skills that one needs to, in essence, create the perfect marketer. One of the fun things we're going to do as part of the program is actually draft the ideal marketing team. And then through the course of what we learn, maybe make adaptations on that, maybe have a midyear kind of draft refinement and an end of year draft finalization, because that's what we do in the real world as well. We change, we shift the resources in the squads to be able to address the most effective kind of test and learn and in the skill sets that are most effective to address whatever insights we've gained, whatever actions are required for the next phase of our marketing execution.
So two last questions. Why should someone take a class from George Mason University?
I think that George Mason provides the perfect blend of pragmatic and academic industry and impact so that each of us has the opportunity to get the very best value proposition. You know, we break through in a way, because we can bring together unexpected moments of industry and academic that will apply it in our program to create the very best marketing leaders possible. And I guarantee you that you'll be able to see the thread through the curriculum and the pragmatic application of the curriculum to your role. And I'm sure it will make a huge difference, not only for you personally, but in your leadership of the team and the organization as we've spoken about earlier. So it's just a great program. I'm sure there's other great programs, but this one is available to you and we'll bring the best of all these different dimensions together.
___
Executive Development at George Mason University offers high-level educational and professional development programs for individuals and organizations: open courses to expand your knowledge and skills, or fully customized programs for your organization. We're here to help you and your business grow and thrive through advanced, targeted solutions. Using the resources of Mason's ten primary colleges and schools, our programs strategically leverage the thought leadership and expertise of world-renowned faculty to create comprehensive learning experiences. We deliver training, education, and learning opportunities for individuals and organizations at our campus located just outside the nation's capital.