Explore how business can address some of the world's biggest challenges.
Develop knowledge and skills to diagnose problems and design business solutions for the economic, social, and environmental challenges facing organizations today.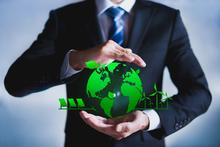 Mason's 15-credit globally responsible business practices minor is a cross-disciplinary minor housed in the Costello College of Business. Courses focus on business as a partner in addressing the world's grand challenges and integrate expertise from numerous disciplines. The minor prepares you for a career in any organization interested in developing, assessing, and reporting their positive impact on the world. 
Eligibility and Requirements 
Available to business and non-business majors.
At least eight credits must be unique to the minor and not applied toward any other major, minor, or concentration. Students must achieve a grade of C or better in each course that is applied toward the minor.
Requires sophomore standing (30 earned credits) to begin minor courses.
How to Declare a Minor
1. Download the Undergraduate Declaration of Minor Form
2. Meet with an Academic Advisor
Schedule a meeting with one of our academic advisors to review requirements and prerequisites. Bring your minor declaration form to the meeting to obtain the required advisor signature
3. Submit Your Completed Form to the Office of the Registrar
See this guide to ensure the correct routing and facilitate faster processing.
Office of Student Success and Academic Services
Enterprise Hall, Room 008 (Lower Level)
703-993-1880