Body
For John Davis, the welcoming staff and unwavering support, as well as the discussion-based class structure he found at the Donald G. Costello College of Business at George Mason University were the ideal conditions to succeed in the MBA program.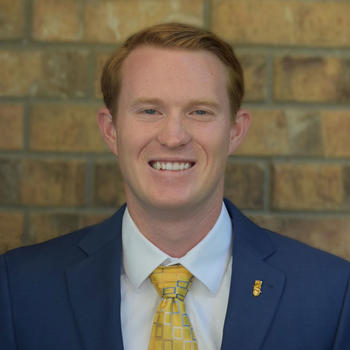 Davis, now a Student Ambassador for the MBA program, represents Costello College of Business graduate programs to the external and internal communities, embodying excellence and sharing his own student experiences to prospective students. Originally from Thousand Oaks, California, Davis is expected to graduate in 2025. Recently, we had the opportunity to chat with Davis to learn more about his journey, and why he chose Mason's MBA program.
Why did you pursue the MBA program, and why George Mason University?  
I enrolled in George Mason's MBA program with the aim of personal and professional growth. As a United States Army Acquisition Officer, I foresee this program equipping me with the skills and knowledge to excel in my role as an acquisition professional, leader, and team member.  
After exploring various universities in the National Capital Region, I opted for George Mason for two primary reasons. Firstly, the university's commitment to diversity, both in its faculty and among students, strongly resonated with me. Exposure to diverse perspectives enhances personal and professional development. Interacting with individuals from diverse cultural and industry backgrounds challenges my problem-solving approaches and offers unique insights.  
Secondly, the program's staff and faculty have been exceptionally welcoming and accommodating since my application process began. Their unwavering support ensures that every student has the ideal conditions to thrive, particularly when juggling work, family, and academics. This level of assistance is crucial for success in a demanding MBA program.  
Can you tell us an interesting fact about yourself?  
Prior to transitioning to my current specialty in Army Acquisition, I served as an Explosive Ordnance Disposal Technician. In this role, I received training in the handling and safe disposal of explosive hazards. Additionally, I had the privilege of collaborating with various government law enforcement agencies, including the United States Secret Service, FBI, ATF, and Homeland Security.
My training and expertise as an EOD Technician enabled me to participate in high-profile events in support of the President, Vice President, and foreign dignitaries. These events included the United Nations General Assembly, Republican National Convention, and security assignments at private residences of the President, among others.
Outside of my military career, I have a passion for sports, particularly golf. Sports have been a significant part of my life, spanning football, baseball, rugby, and golf. Notably, I played football at the University of Mount Union, under the guidance of College Football Hall of Fame Coach Larry Kehres.   
What are the highlights of your experience so far?  
The George Mason University MBA program stands out for its exceptionally welcoming and accommodating staff and faculty, who prioritize student comfort and success. The program's discussion-based class structure, in contrast to traditional lectures and PowerPoint presentations, fosters engaging and interactive learning experiences. These highlights have created an enriching and supportive environment for my academic journey.  
What goals do you have for the future?  
My primary objective for the future is to advance in my Army career, specifically within the field of Acquisition, with a focus on program management. The insights and skills I'm acquiring through this MBA program will directly support my career progression. The knowledge gained from the program will enhance my leadership abilities in managing complex teams and collaborating effectively with industry partners to deliver optimal capabilities to the US warfighter.  
Do you have any advice for aspiring candidates for your program?  
Find the program that is right for you. Undertaking an MBA while managing everything else that goes on in your daily life is no small task.
---
George Mason University's MBA program is known for its commitment to academic excellence, as evidenced by its AACSB accreditation. Prospective students will appreciate the program's flexibility, with options for full-time, part-time, and online study to accommodate various schedules and career goals. The program offers specialized tracks, enabling students to focus on their preferred areas of expertise. Furthermore, George Mason University's strong ties to local businesses and government agencies provide students with valuable networking opportunities. The emphasis on innovation and technology equips graduates with the skills necessary to thrive in today's ever-evolving business environment. George Mason University's MBA program offers a comprehensive and impactful educational experience for those seeking to advance their careers.   
If you're interested in learning more about George Mason University's MBA program, register for an upcoming info session or request more information about the program here.