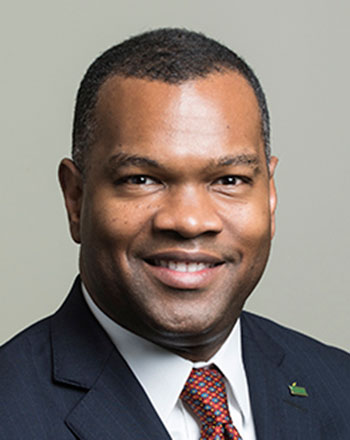 Titles and Organizations
Vice President of Healthcare, Cognizant
Biography
Horace Blackman is Vice President of Healthcare at Cognizant – a Fortune 200 global Information and Technology Services company. In this role he is responsible for the strategy development and delivery of digital business, digital operations and digital systems and technology to commercial healthcare payers, government and public health programs.
Prior to joining Cognizant in April 2018, Blackman served as the Senior Vice President of Leidos Veterans Health Line of Business subsequent to the merger of Lockheed Martin's Information System and Global Solution business with Leidos. In this role, he was responsible for leading the Program Area with a focus on securing and extending core federal business in the health arena — offering development through Operations and Sustainment to customers across the globe. And provide mission-critical advanced technology systems and services for federal government customers within the Department of Veterans Affairs.
Federal Computer Week named Blackman a 2014 Federal 100 Award winner, which honors government, industry and academic leaders in information technology for the federal government. Other recognitions include ComputerWorld magazine's 100 IT leaders in 2013, the Project Management Award for Green IT from the Association for Federal Information Resources Management and the Project Management Award for Green IT from the Government Information Technology Executive Council (GITEC).
Blackman earned a Bachelor of Arts degree from George Mason University, double majoring in American studies and English. He earned a Master of Business Administration in management from the Darden Graduate School of Business Administration at the University of Virginia.