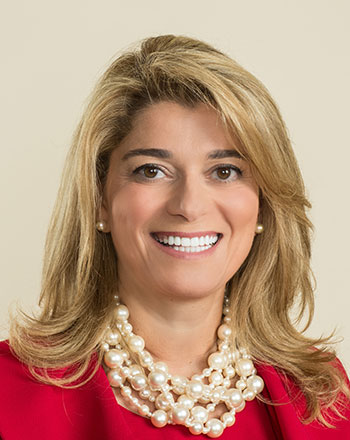 Titles and Organizations
Chief Executive Officer, Trustar Bank
Biography
Shaza L. Andersen recently served as vice chair of the board of Sandy Spring Bank. Prior to joining the board, Andersen founded and served as CEO of WashingtonFirst Bank, a wholly owned subsidiary of WashingtonFirst Bankshares, Inc. Andersen's leadership grew the bank from a single De Novo branch to over $2 billion in assets, with 19 branches in Maryland, Virginia and Washington, D.C. She completed the sale WFBI to Sandy Spring Bancorp (NASDQ: SASR) for $489M in stock, which equates to 256% of its tangible book value. By dollar value, it is the largest banking deal in the Mid-Atlantic region and ranks among the 10 largest deals in the country.
Andersen is also a member of the Board of Directors of Amalgamated Casualty Insurance Company and a past member of the Federal Home Loan Bank of Atlanta, where she was the vice chair of the Corporate Governance Committee and a member of the Housing Committee and also served on the Treasury Board of the Commonwealth of Virginia.
Andersen founded the WashingtonFirst Youth Foundation (WFYF), a local not-for-profit organization dedicated to enriching the physical, social, and mental well-being of children in the Washington, D.C., Metropolitan area. In addition, Andersen donates her time and talent to organizations that focus on children, entrepreneurship and education including: the Washington Redskins Leadership Council, the INOVA Foundation Health Board, the National Association of Women Business Owners Leadership Circle, the Executive Board of the Blitz for the Better Foundation, the Board of Directors of the Washington Tennis and Education Foundation, the George Mason University Dean's Advisory Council, the International Women's Forum of Washington, DC, and the Global Good Fund Advisory Board. She previously served on the Board of Trustees for Youth For Tomorrow, the Board of Directors of the Wolf Trap Foundation, the Executive Committee of the Board of Directors for Junior Achievement of Greater Washington, and was a member of the Young Presidents' Organization (YPO).