Body
In the first of a three-part series for the summer semester, on Tuesday, June 7, at 12 noon, the GMU Center for Retail Transformation will host a virtual panel on how retailers can transform shoppers' in-store experience.
The session will feature four leading experts:
And discuss the following:  
While 85% of all shopping happens in-store today, customer satisfaction with the shopping experience is low. Why is this? What can retailers do to change this situation? 
How is technology transforming the in-store shopping experience in retail stores today and tomorrow?
What is the impact of analytics on retailers' ability to create an elevated experience that will delight shoppers and increases conversion rates and average transaction value?
Which categories of technologies should retailers be focused on in this store transformation?
Register today to join the discussion!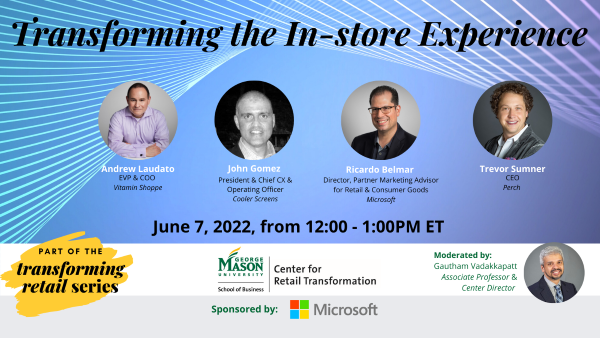 Topics